Deputies are Berks' first female K-9 handlers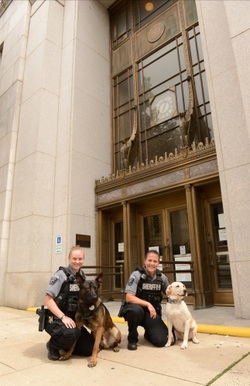 9/4/2013 The Berks County sheriff's department has appointed its first female K-9 handlers, and they are thrilled with the job and their new best friends. K-9 Deputies Melissa Seidel and Alicia L. Angstadt said they love their dogs and are grateful to have jobs helping to keep the community safe. "I love dogs and coming to work," said Angstadt, who's K-9, Roxy, a Labrador retriever, makes routine searches at the county jail for contraband. Angstadt said she looks forward to additional training soon to help locate missing children with autism and people with Alzheimer's disease.
Sheriff Eric J. Weaknecht said having a trained K-9 available will be a tremendous help to the deputies who do those searches. Angstadt said Roxy goes with her on rounds to serve civil papers in addition to the prison searches. "As soon as we get to the prison, we hear toilets flush," she joked. So far, no contraband has been confiscated. Angstadt said she stops by Chief Deputy John Stanton's courthouse office daily for a treat for Roxy. "She really works hard during the day and appreciates the treats," Angstadt said. "Just by having the dogs we serve as a deterrent." Seidel said she was happy when she landed the K-9 job to search for explosives as part of a team run by the U.S. Department of Homeland Security. The team covers seven counties, but Seidel works primarily in Berks. "So far, we haven't found anything, which is a good thing," Seidel said of herself and her dog, Knight, a German shepherd/Belgium Malinois. "I was just so excited when I got the K-9 job," Seidel said. "This is the best job you could ask for."
Weaknecht said the new additions bring the K-9 unit up to five members. "This is a big asset to our department," he said. "We find that K-9s can save lives. They are very responsible." Weaknecht said it costs about $20,000 to purchase and train each dog. The funding was provided by Friends of the Sheriff's K-9 unit, Homeland Security and Berks County Prison. Angstadt and Seidel said they especially love being able to take their dogs home with them to relax after a long day at work. "I have another Lab at home and I am just so grateful for this opportunity," Angstadt said.
Contact Holly Herman: 610-478-6291 or
hherman@readingeagle.com
.
---