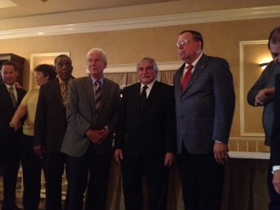 HAPPY RETIREMENT TO OUR FELLOW DEPUTY SHERIFF'S IN DELAWARE COUNTY!

A retirement party was held on Tuesday, June 24, 2014 at the Heritage Ballroom in Holmes, Pennsylvania for our fellow brothers of the Delaware County Sheriff's Office. Plaques and retirement badges were given out to the retirees by Sheriff Mary Hopper and Chief Michael Donahue. Everyone had a great time and the retirees are looking forward towards their retirement. The following are the retirees and their years of service with the Delaware County Sheriff's Office:
Lieutenant Dominic Squillace - 26 years, Captain Glenn Bixby - 45 years, Sergeant Wilbur Smith - 50 years, Sergeant Debbie O'berg - 18 years, Deputy Robert Sides - 33 years and Deputy Joseph Nigro - 40 years.
Thank you for your service.
Click Here for more photos.
---