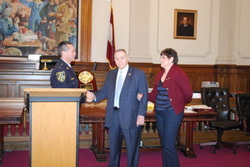 Montco Chief Deputy Sheriff to Retire This Week
Alfred J. Ricci has served as chief deputy sheriff for Montgomery County since 2000.
Posted by
Tim Zatzariny Jr.
(Editor) , January 06, 2014 at 08:29 PM
Montgomery County Chief Deputy Sheriff Alfred J. Ricci will retire this week after 48 years in law enforcement.
Ricci's last day on the job is Friday. Ricci started his law-enforcement career in 1966 with the Norristown Police Department after responding to an advertisement in a local newspaper while working at a tire company, and has been with the Montgomery County Sheriff's Department for 14 years.
He was recently honored
, surrounded by his peers, friends and family, with a special plaque for his outstanding work during a MCSD commendation ceremony held on Dec. 18, 2013.
As a patrolman in Norristown, Ricci was instrumental in forming the department's first K-9 Unit after searching and capturing a suspect who was later found guilty of killing a Philadelphia police officer.
After being promoted to sergeant, Ricci led a platoon of 11 officers to make more than 360 drug- related arrests in addition to their normal duties.
Ricci joined the sheriff's department in 2000 as the chief deputy sheriff under Sheriff John P. Durante and served as an interim sheriff following Durante's death.
"I've been lucky that this is the first time that I'll be without a job," said Ricci.
A replacement has not yet been announced for the position. Ricci's retirement comes just two weeks after Sheriff Eileen Behr
announced her resignation
to take a post at Drexel University.
---