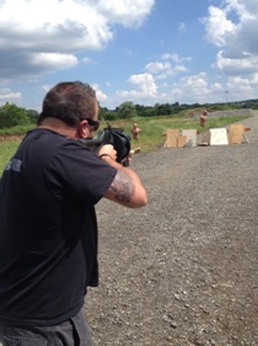 Montco Sheriff's Office hosts Less Lethal Instructor Certification Course
by Dep. Harry Burke

The Montgomery County Sheriff's Office hosted a Less Lethal Instructor certification course at the Public Safety Training Campus from August 11 – 14, 2014. This 4-day course from Combined Tactical Systems Training Institute (CTSTI) certified its students as instructors in OC (pepper spray), Chemical Munitions (teargas), Impact Munitions (beanbags, rubber ball rounds) and flash-bangs. Training consisted of classroom and range exercises. Information provided included product history, nomenclature, use of force considerations, hands-on applications, legal implications and exposure to live chemical agent. Deputy Walker become a new instructor, Deputy Burke and Lt. McDonald were recertified as instructors. Deputy Burke plans on certifying members of the CERT team in impact munitions and chemical munitions in the near future.

The following agencies attended the training: Norristown PD, Media Borough PD, Lower Merion Township PD SWAT, Upper Darby Township PD SWAT, West Norriton Township PD, Central Montgomery County SWAT, Cheltenham Township PD, University of Pittsburgh PD, Royersford Borough PD, Delaware County ERT, Haverford Township PD SWAT.



---