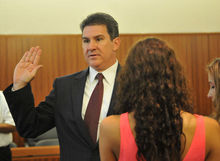 Northampton County swears in David Dalrymple as sheriff

By Tom Shortell / The Express-Times / Published August 11, 2014
David Dalrymple was sworn in as the new Northampton County sheriff this morning after a
few hiccups in the ceremony. The retired New Jersey State Police major took the oath of office this
morning before family members, county officials and about 30 sheriff's deputies in a brief event. Dalrymple, flanked by his teenage daughters, thanked those in attendance for their support. READ MORE....
---