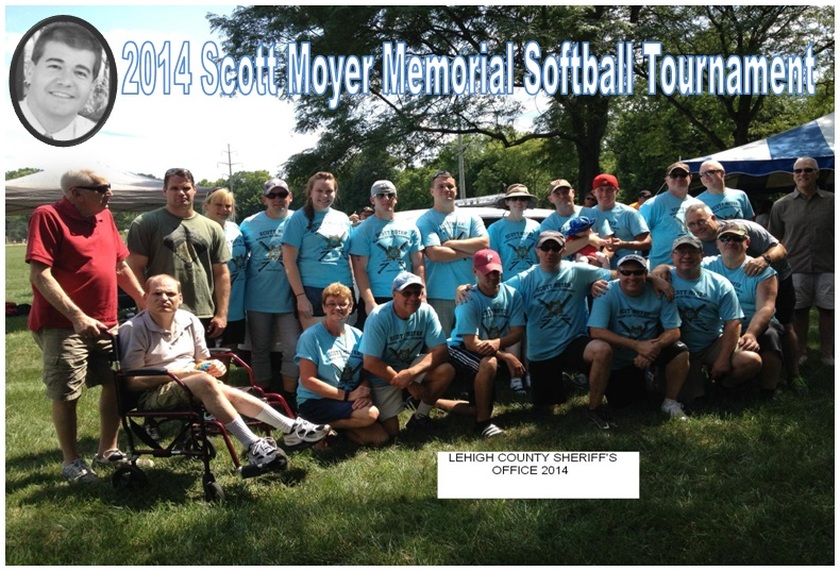 ---
Scott Moyer Memorial Softball Tournament, August 9, 2014
On Saturday, August 9, 2014 the 4th Annual Scott Moyer Memorial Softball Tournament took place at the Scherersville Athletic Field in Allentown. Everyone had a wonderful time. DSAP President Michael Mohn and 1st Vice President Paris Washington were in attendance.
---
Letter from Sergeant Robert J. Mesko Jr. Lehigh County Sheriff's Office

On August 09, 2014 the 4th Annual Scott Moyer Softball Tournament was held at the Lehigh County Athletic Fields in Allentown . Seven teams competed in spirited competition to commemorate the memory of Deputy Scott A. Moyer. Scott was a vital member of the Lehigh County Sheriff Warrant Division for over thirteen years. The teams came from all walks of life and professions and consisted of the following teams:

1st place: Pa State Probation and Parole / U.S. Marshalls ; 2nd place: Northwestern Children's Centre; 3rd place: Montgomery County Sheriff's; 4th place: Lehigh County Sheriff's Office; 5th place: Kyles Crusaders; 6th place: Northampton County Sheriff's Department and 7th place: Team Galusha.

Over the past three years of this wonderful tournament, through generous donations from local businesses, we have raised over twelve thousand dollars to contribute to the "Kyle Moyer Education Fund". With this years generous contributions we have reached close to four thousand dollars. We would like to thank our annual sponsors and key donators: Coca Cola of the Lehigh Valley , K. Heeps Meats, Bimbo Bakery, Nestle Water, Lehigh Valley Iron Pigs, Lehigh Valley Phantoms and Mahoning Valley Country Club.

We would also like to thank all of the wonderful men and women, who helped with concessions, cooking, set up and clean up. Without your help this event could not be a success. To the County of Lehigh , thank you for the donation of the County fields.

A special thank you to the Deputy Sheriff's Association of Pennsylvania for your appearance, donation and enthusiasm, it means a lot to all in our profession to see our leaders involved and caring.

Thanks again, Sgt. Robert J. Mesko Jr.

Lehigh County Sheriff's Office


---
Why the Scott Moyer Softball Tournament?
Due to Scott Moyer's love of baseball, several of his fellow Deputy Sheriffs have organized an annual softball tournament in his honor. The tournament is a way to continue to remember Scott and to raise funds to assist with Kyle's future education needs through the creation of the Kyle Moyer Scholarship Fund. You can send your donations to: Kyle Moyer Scholarship Fund, C/O First Niagara, 861 North Route 100, Fogelsville, PA 18051.

---
Would You Like to Contribute?
To contribute please contact: Deputy Sheriff Jason Sedgwick @ (484) 505-8788 or Deputy Sheriff Mike Leighton @ (484) 725-0837. Ask about participating in next years softball tournament.