Active shooter training will be starting up again after first of year.
Please contact the Association in you are interested.

RAPID RESPONSE TO ACTIVE SHOOTER TRAINING

PRESENTED BY THE DEPUTY SHERIFF'S ASSOCIATION OF PA

This course provides the Law Enforcement Officer (LEO) with issues and training on how to respond to an active shooter incident in the workplace. This training is designed for the Sheriff's Office and support law enforcement that will respond in a support role

Time: This is an 8-hour (which includes academic and skill sections)

Cost: FREE – To all participants that are Sheriff's Deputies and members of the Deputy Sheriffs Association of Pennsylvania (DSAP)

or LEO support staff (Must have an associate membership to the DSAP)

Everyday we are faced with violence in and around the courthouse. Active shooter incidents are on the rise. Are you prepared for such an event? The Southeastern Regional Director of the DSAP has offered to the members and associate members training on how to respond to such an incident.

Topics Covered:

What is an active shooter event?

How to plan for this critical response

Tactics to be used

Live drills within the courthouse

Explanation of the ICS

Examples of creating an Emergency Action Plan

Non LEO actions to take in such an emergency

Completion Certificate

Both Delaware, Chester, Fayette and Westmoreland County Sheriff Offices have received this training and other counties are preparing to receive it.

If you wish to have this course at your facility, contact the DSAP for more information (215) 672-8188






Active Shooter Training at Westmoreland County PA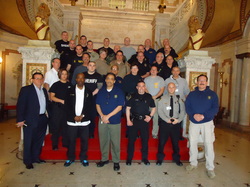 Westmoreland County Deputy Sheriffs'
An Active Shooter Training class was held in Westmoreland County April 14, 2013
---


Active Shooter Training at Fayette County PA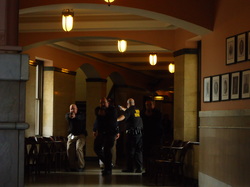 Fayette County Deputies training at the County Courthouse
Deputies in Fayette County received training on April 13, 2013 on reacting to an active shooter. The training was held in Fayette County Courthouse.
---