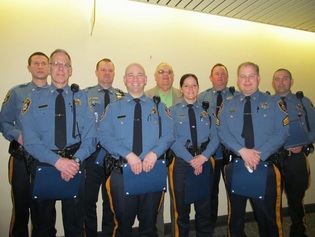 Deputies Honored For Saving Lawyer's Life
Story by Bernie O'Hare (Click Here to see more photos and the story)
He was clinically dead. Last November, Bethlehem Attorney Richard Schaedler collapsed outside a Northampton County courtroom while waiting to present a motion. His doctor later called it sudden, cardiac death SCD), the leading cause of natural death in the United States. His heart stopped, and remained stopped, for seven minutes. But thanks to the training and dedication of ten Deputy Sheriffs who would not give up, a faint heartbeat eventually returned. Sill unconscious, Schaedler was rushed to Easton Hospital. But after weeks in a coma, he's made a full recovery and has returned to his law offices on Lehigh Street. He also made a special trip to the courthouse. At Council's April 3 meeting, Scaedler personally thanked each deputy. They were rewarded with a standing ovation, something Council has never done before for anyone. Each deputy also received a Letter of Commendation.
They were able to save Attorney Schaedler's life because they had the training and the right equipment. They belong to one of only two accredited Sheriff Departments in the state, are required to attend 19 weeks of academy training, and are also trained in "emergency care". This includes CPR, first aid, oxygen administration and the use of an AED (Automated External Defibrillator).
Certification is a process started years ago by Sheriff Jeff Hawbecker. It was carried to fruition by Sheriff Randy Miller in 2011 and has been continued by Acting Sheriff Chris Zieger. He told Council he was happy to be there, not to ask for money, but to honor his deputies.
The deputies recognized were Sergeants Jeffrey Heller and Timothy Hornbaker as well as Deputies Brian, Budraitis, Elaine Feliciano, Gretchen Kraemer, Scott Kuehner, Jeffrey Schuler, Ethan Segreaves, Mark Surber and James "Tommy" Underwood.
Schaedler, a prominent real estate expert, is a Hellertown resident and former Saucon School Board member. He is known best for his love of hockey and the Mets. He has practiced law since 1978.
Executive John Brown told Council, "I think it's important to acknowledge that, in the County,we have a great workforce." Rich and I grew up together in Hellertown.
I wonder if I would be so lucky. I bumped into Coroner Zach Lysek today, and what he tells me is not so promising. "Bernie, we already have the toe tag filled out and a spot waiting for you. We're just waiting to fill in the date. How's your pulse?"
---