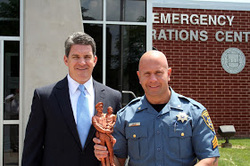 Northampton County Deputy Sheriff George Volpe Receives Ogden Award
In 1771, Northampton County Deputy Sheriff Nathan Ogden was killed while attempting to execute an arrest warrant. He is the first known law enforcement officer to make the ultimate sacrifice for his community in America. Unfortunately, many others have followed.
Last year alone
, 134 police officers died in the line of duty. In memory of Nathan Ogden and his fallen comrades, the Northampton County Chiefs of Police Association established an annual award in 2002 for a police officer who distinguishes himself and his profession. This year's recipient is, like Nathan Ogden, a Northampton County Deputy Sheriff. George Volpe is the first Deputy Sheriff to be honored by police chiefs.
READ MORE
---